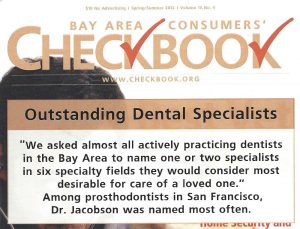 Gary W. – Tiburon, CA
I've been seeing Dr. Jacobson for four years and have been extremely happy with the care I've received. I recently had a tooth infection and the day I was in his office I was literally taken by Janet who runs the office to see an endodontist who did a very thorough evaluation and then Dr. Jabobson's office orchestrated my appointment with an oral surgeon. Dr. Jacobson then did both a bridge and multiple crowns that came out fantastically well. He has his own lab on-site so both the color and the shape of the teeth couldn't look better and also more natural. Kim, his assistant is both very competent and very nice and Janet who runs his office is super effective and extremely helpful and nice.
Lark M. – San Francisco, CA
Dr Jacobson helped me with some tricky procedures which were necessary after another incompetent dentist got me into a bad place. Dr Jacobson is very competent and explains options clearly. I highly recommend him and his wife. The staff is great too. Dr Jacobson is a preeminent dentist in the Bay Area and you will be lucky to be in his care. Plus there are great views from his office!
Jake B. – San Mateo, CA
The Best dental experience I could ask for!!! Dr. Jacobson went through my options with me step by step as well as took the time to carefully review what could go wrong with the various options.  I have had work done by him in the 90's and it really lasts.  If you want a dentist to really hold your hand throughout a procedure maybe he is not the best but it was painless. He's quite handsome too.
Lesley H. – Mill Valley, CA
Dr. Jacobsen has been my dentist for over 20 years. He was recommended to me because I have pretty challenging dental needs — bruxism, implants, all crowns, etc.  Dr. Jacobsen is best in class. I recently had my crowns replaced due to extreme wear over the years. Not only has he adjusted my bite so it is TERRIFIC, but the new crowns have given me a gorgeous new smile that is better than a facelift. His staff are also very professional and masters at what they do, from Janet at the front desk, to Kim assisting, to Britta who is an artist with porcelain. I could not recommend Dr. Jacobsen more highly.
Andy A. – San Francisco, CA
So far my experience here has been far and above better than at any other dentist. Dr. Jacobson patiently went over all my options and answered my questions without rushing me. He gave me a thorough and clear outline of what to expect and he told me about the risks and complications that could occur – most doctors or dentists conveniently leave out all the things that can go wrong. I haven't had any work done here yet, so my review might change, but so far, the experience has been fantastic.